Tabletop Role-Playing Game Club - September Meeting #2
Sunday, September 17, 2 pm - 5 pm.
To reserve your spot in this tabletop role-playing game club, email colin@flyleafbooks.com with the subject line 'TTRPG CLUB SIGNUP'. Also feel free to email if you have any questions.
The first meeting will be held two weeks prior on Sunday, September 3 at 2 pm.
---
Flyleaf Books has a new Tabletop Role-Playing group, and whether you've never Role-Played before or you've been doing this kinda thing for years - we want you to join our party!

Have you ever wanted to battle fantastical monsters on top of an erupting volcano? May we interest you in taking on the role of a paranormal investigator, putting your life on the line to solve a case before the very fabric of reality is torn, leaving behind a hole for creatures from alternate dimensions to waltz on through, assuring the destruction of humanity?! Or maybe you just wanna be a mouse in space. Well, folks, all this and more is possible through the magic of - you guessed it - tabletop role-playing games!
We'll meet twice a month and pick a new game to explore each month. The first meeting will focus on making characters and a general overview of the rules of the game. During our second meeting, we'll play through a one-shot adventure using the characters made during the first session.
No experience necessary, all levels of player are welcome. This month's game is Death in Space. Due to the nature of the hobby - and to not overburden the game master - we can only accommodate a maximum of 5 people per game. So if you're interested, email Colin ASAP at colin@flyleafbooks.com.
See you there!
Event date:
Sunday, September 17, 2023 - 2:00pm
Event address:
752 Martin Luther King Jr. Blvd.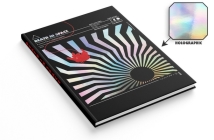 $39.99

ISBN: 9789189143401
Availability: Usually Available in 5-9 Days, supply chain issues may affect these times
Published: Free League Publishing - April 27th, 2022
---