Pete Souza signs Shade: A Tale of Two Presidents (Ticketed, signing only)
Friday October 26th, beginning at 6pm
Flyleaf Books presents
Pete Souza, Chief Official White House Photographer for President Obama and author of the #1 New York Times bestseller Obama: An Intimate Portrait
Signing his new book Shade: A Tale of Two Presidents
Please note event rules: This is a signing only, no presentation. Tickets are required to enter the signing line and you must purchase a copy of Shade to get a ticket. Pete will sign multiple copies of Shade and up to one newly-purchased copy of Obama: An Intimate Portrait. All books must be newly-purchased from Flyleaf Books. Tickets will be assigned time slots so you know when to show up - the sooner you purchase a ticket the sooner your place in line will be. If you cannot make the event we are happy to have your books signed for you. All books must be newly purchased at Flyleaf Books. Tickets are limited and are expected to sell out, please purchase early to avoid disappointment!
A NEW BOOK OF PHOTOGRAPHS CONTRASTING THE TRUMP AND OBAMA ADMINISTRATIONS FROM THE OBAMA WHITE HOUSE PHOTOGRAPHER AND #1 BESTSELLING AUTHOR
When Pete Souza left the White House in 2017, he didn't know what it meant to "throw shade"—but he started doing it almost immediately on his personal Instagram account, posting his photographs from the Obama years with captions that vividly define the contrast between the Obama White House and President Trump's administration. Media organizations caught on and couldn't stop talking about Souza's posts, with New York magazine calling them "a master class in shade," CNN describing them as "a silent, social media, shade-throwing protest told in visuals," and Politico naming him "King of Instagram Shade." Souza's following on Instagram has since grown to nearly two million people. He has also become a potent force in American life, offering incisive political criticism alongside powerful reminders of the best our country has to offer.
SHADE is a portrait in contrasts, telling the tale of two presidencies through a series of powerful visual juxtapositions—with Souza's unforgettable images of President Obama delivering new power and meaning when framed by tweets, headlines, quotes, and other material from the first 500 days of the Trump administration. The book responds to fan demand for a book that captures Souza's voice on Instagram, and will include more than one hundred photographs that did not appear in his previous book. More than a sharp compendium of clapbacks, SHADE is a touchstone to an era of greater integrity in our politics. Souza's work is a stirring reminder of the highest American values we share, giving us the courage to stand up and speak out for what we believe in.
Please purchase your copy of SHADE from Flyleaf Books either online below, or by calling the store at 919-942-7373.
You will be notified of your signing line time early in October.
Author photo credit Patti Lease
Event date:
Friday, October 26, 2018 - 6:00pm
Event address:
752 Martin Luther King Jr. Blvd.

$30.00
ISBN: 9780316421829
Availability: Coming Soon - Available for Pre-Order Now
Published: Little Brown and Company - October 16th, 2018
One person admitted with each purchase of SHADE. We assume you will be coming to the event when you purchase this book; please let us know if you plan on attending in person OR we are happy to have it signed for you - then held for pickup or shipped. Thanks!
---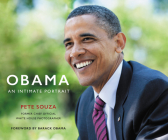 $50.00
ISBN: 9780316512589
Availability: On Our Shelves Now
Published: Little Brown and Company - November 7th, 2017
---