Lee Pace presents GOOD WALKS: REDISCOVERING THE SOUL OF GOLF AT EIGHTEEN OF THE CAROLINAS' BEST COURSES
Tuesday, May 4, 2021 - 6:00 pm (click here to register via Crowdcast)
Scroll to the bottom of this page to purchase titles by Lee Pace. All copies of Good Walks and Football in a Forest will be signed by the author. If you would like your copies personalized, please indicate your preferred name/inscription in your order comments.
This book celebrates the beauty, tradition, and variety of golf across the Carolinas, featuring eighteen beloved courses as experienced by the walking golfer. One of golf's earliest appeals was its health-giving benefits, with players walking some four miles over varied terrain, making stamina and endurance an important part of the sport. Most recreational players today choose motorized carts. But Lee Pace believes that the slower pace and on-the-ground view associated with walking gives one an opportunity to savor the experience, understand the nuances of course design and landscape architecture, and appreciate the small touches that make our region's best clubs and courses special. The Carolinas are a cradle for the game in the United States, making walking its courses an ideal way to connect past and present.

Attractively illustrated with full-color photography, each essay tells the story of a course and how it is experienced on foot. Guiding readers around fabled courses like Pinehurst No. 2 and new classics like Kiawah Island's Ocean Course, private clubs and municipal courses, resort destinations and urban gems, Pace reflects on legendary course architects, famous tournaments, notable players, ties between the game's founders and the Carolinas, and more. Whether you're a committed traditionalist or new to the game, this book will inspire you to slow down and enjoy the best of what golf has to offer.
---
Lee Pace is a writer, editor, and publisher with more than thirty years of experience writing about golf. He lives in Chapel Hill, North Carolina.
in conversation with:
Mark Simpson-Vos is Wyndham Robertson Editorial Director at UNC Press, where he publishes a wide range of nonfiction, including books about North Carolina and the South. He has worked with a stellar community of local writers including David Menconi, Scott Huler, Catherine Bishir, Malinda Maynor Lowery, Wesley Hogan, Gene Nichol, Sandy Darity and Kirsten Mullen, Adam Lucas, Marianne Gingher, Bland Simpson, and Philip Gerard. Alongside his publishing career, he spent 10 years as a freelance sports writer covering college basketball and football.
Event date:
Tuesday, May 4, 2021 - 6:00pm
$40.00

ISBN: 9781469662862
Availability: On Our Shelves Now
Published: University of North Carolina Press - May 3rd, 2021
---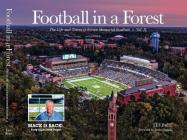 $39.95

ISBN: 9780692832417
Availability: On Our Shelves Now
Published: Lee Pace - July 1st, 2020
---