Eric Muller presents LAWYER, JAILER, ALLY, FOE
Thursday, May 4, 2023 - Signing Line at 5:30 pm, Talk begins at 6:00 pm
Scroll down to order your book, and please indicate in the comments if you'd like 1-2 seats held for you at the event!
Flyleaf will offer seating for up to 60 in-person guests, with priority access given to folks who purchase the book. Masks recommended
---
The many meanings of justice and injustice at Japanese internment camps.
It is 1942, and World War II is raging. In the months since Pearl Harbor, the US has plunged into the war overseas – and on the home front, has locked up tens of thousands of innocent Japanese Americans in concentration camps, tearing them from their homes on the West Coast with the ostensible goal of neutralizing a supposed internal threat.
At each of these camps the government places a white lawyer with contradictory instructions: provide legal counsel to the prisoners, but keep the place running. Within that job description is a vast array of tasks, and an enormous amount of discretion they can use for good or for ill. They fight to protect the property the prisoners were forced to leave behind on the coast; they help the prisoners with their wills and taxes; and they interrogate them about their loyalties, sometimes to the point of tears. Most think of themselves as trying to do good in a bad system, and yet each ends up harming the prisoners more than helping them, complicit in a system that strips people of their freedoms and sometimes endangers their lives.
In Lawyer, Jailer, Ally, Foe, historian Eric L. Muller brings to vivid life the stories of three of these men, illuminating a shameful episode of American history through imaginative narrative deeply grounded in archival evidence. As we look through the lawyers' sometimes clear and sometimes clouded eyes, what emerges is a powerful look at the day-by-day, brick-by-brick perpetration of racial injustice—not just by the system itself, but by the men struggling to do good within it.
---
Eric L. Muller is the Dan K. Moore Distinguished Professor of Law in Jurisprudence and Ethics at the University of North Carolina School of Law.
Event date:
Thursday, May 4, 2023 - 5:30pm
Event address:
752 Martin Luther King Jr. Blvd.

$30.00

ISBN: 9781469673974
Availability: Coming Soon - Available for Preorder Now
Published: University of North Carolina Press - May 16th, 2023
---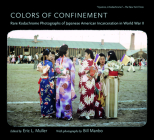 $29.95

ISBN: 9781469666167
Availability: Usually Available in 1-5 Days, supply chain issues may affect these times
Published: University of North Carolina Press - August 1st, 2021
---