IN-PERSON: John Allore presents WISH YOU WERE HERE, with Eric Muller
Thursday, May 26, 2022 - Signing Line at 5:30 pm, Talk begins at 6:00 pm
Scroll down to order your book, and please indicate in the comments if you'd like 1-2 seats held for you at the event!
Flyleaf will offer seating for up to 50 in-person guests, with priority access given to folks who purchase the book. Masks recommended.
---
As compelling as Michelle McNamara's I'll Be Gone in the Dark or James Ellroy's My Dark Places, this is the story of a brother's lifelong determination to find the truth about his sister's death, a police force that was ignoring the cases of missing and murdered women, and, to the surprise of everyone involved, a previously undiscovered serial killer.

In the fall of 1978 teenager, Theresa Allore went missing near Sherbrooke, Quebec. She wasn't seen again until the spring thaw revealed her body in a creek only a few kilometers away. Shrugging off her death as a result of 1970s drug culture, police didn't investigate.

Patricia Pearson started dating Theresa's brother John during the aftermath of Theresa's death. Though the two teens would go their separate ways, the family's grief, obsession with justice, and desire for the truth never left Patricia. Little did she know, the shockwaves of Theresa's death would return to her life repeatedly over the next forty years.

In 2001, John had just moved to Chapel Hill, North Carolina, with his wife and young children, when the cops came to the door. They had determined that a young girl had been murdered and buried in the basement. John wondered: If these cops could look for this young girl, why had nobody even tried to find out what happened to Theresa? Unable to rest without closure, he reached out to Patricia, by now an accomplished crime journalist and author, and together they found answers far bigger and more alarming than they could have imagined—and a legacy of violence that refused to end.
---
John Allore hosts the podcast Who Killed Theresa?, which concentrates on unsolved murders in Quebec, and other justice issues. He launched one of the first crime blogs and the website theresaallore.com, which is now a trove of information on unsolved cases in Canada and the US. He lives in Chapel Hill, North Carolina.

Patricia Pearson is a critically acclaimed journalist and the author of several books of both fiction and non-fiction. Her book about what people experience when they die, Opening Heaven's Door, was a finalist for the BC National Book Award. She has won three National Magazine Awards and the Arthur Ellis Award for best non-fiction crime book. She lives outside Toronto
Eric Muller is a legal historian at the University of North Carolina at Chapel Hill, where his research and expertise are in the mass removal and imprisonment of Japanese Americans in World War II as well as the roles of German professionals in perpetrating the Holocaust. He has written award-winning books and created award-winning museum exhibits.
Event date:
Thursday, May 26, 2022 - 5:30pm
Event address:
752 Martin Luther King Jr. Blvd.

$13.00

ISBN: 9781039003262
Availability: Usually Available in 1-5 Days, supply chain issues may affect these times
Published: Vintage Canada - May 3rd, 2022
---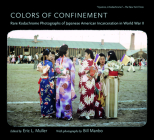 $29.95

ISBN: 9781469666167
Availability: Usually Available in 1-5 Days, supply chain issues may affect these times
Published: University of North Carolina Press - August 1st, 2021
---