Why You're So Amazing, Dad: A Book Made by Me (Hardcover)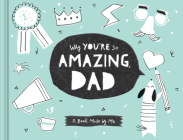 $14.95

Usually Available in 5-9 Days, supply chain issues may affect these times
Description
---
Dad is so amazing there's enough to write a whole book about him Help a child do just that with the creative, kidfriendly prompts inside this bright book. Why You're So Amazing, Dad includes fun fillintheblank statements like:
o I think you're cooler than ___________ and even more fun than ___________.
o You're the reason I'm ___________.
o You make the best days even better when you ___________.
These spirited pages are ready to be finished with personal stories and handdrawn pictures to make a gift as special as Dad. Features a debossed cover and board book pages.