Lonely Planet Kids How Ships Work 1 (How Things Work) (Hardcover)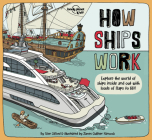 Description
---
Coming about! From dinghies to freight liners, pirate ships to submarines, across oceans and up rivers, set sail on a fascinating journey through the world of ships in this new book from illustrator James Gulliver Hancock.
In this companion to How Airports Work and How Trains Work, young readers travel through history and around the world to find out everything they ever wanted to know about ships. Lift the flaps to unfurl papyrus sails on an Ancient Egyptian ship sailing up the Nile, tour a historic Spanish galleon, zoom across the water at almost 320 miles per hour in a speedboat, and much more.
See how ships stay afloat, cultivate wind power, and navigate using the stars . Learn all about how the first simple boats carved out of tree trunks evolved into the giant super yachts and cruise liners of today, and take a look at the limitless possibilities of the ships of the future.
How Ships Work is jam-packed with amazing facts and awesome illustrations, and was created in consultation with the National Maritime Museum, UK.
About Lonely Planet Kids: Lonely Planet Kids - an imprint of the world's leading travel authority Lonely Planet - published its first book in 2011. Over the past 45 years, Lonely Planet has grown a dedicated global community of travelers, many of whom are now sharing a passion for exploration with their children. Lonely Planet Kids educates and encourages young readers at home and in school to learn about the world with engaging books on culture, sociology, geography, nature, history, space and more. We want to inspire the next generation of global citizens and help kids and their parents to approach life in a way that makes every day an adventure. Come explore!
About the Author
---
Illustrator: James Gulliver Hancock is a well traveled illustrator known for his playful illustration style. His obsession with drawing everything in the world has seen him work for major projects around the globe, seeing his work appear on everything from billboards, to TV commercials, to ceramics, to books, to board games...