PreFlood: An Easy Journey Into the PreFlood World by Trey Smith (Hardcover)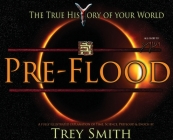 $35.00

Usually Available in 1-5 Days, supply chain issues may affect these times
Description
---
PreFlood is the BEST EXAMINATION of the the PREFLOOD WORLD ever in print. It is an easy walk-through, fully illustrated, full color images, complete with timelines and artifacts. The book examines and is a journey from the beginning of creation, the origin of time and reality, Genesis, Enoch, and more....
You will find this book contains the BEST debunking of Darwin's 1859 Theory of Evolution, BEST debunking of "missing links," and BEST all around journey into the world before the flood.
The book also contains imagery and explanations as they relate to Nephilim, Fallen Angels, Demons... and other creepy crawlies.
It is also a journey through the precise and dimentional symbols of the Hebrew Book of Genesis, Book of Enoch and Book of Jasher.
A ride like no-other on earth.
A PreFlood journey by Trey Smith