PreFlood: An Easy Journey Into the PreFlood World by Trey Smith (Paperback) (Paperback)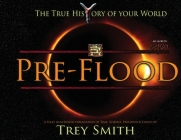 Description
---
PreFlood is likely one of the BEST EXAMINATIONS of the PREFLOOD WORLD ever in print. It is an easy fully illustrated walk-through, with full color images, timelines and artifacts. The book is a journey from the beginning of creation, to the origin of time and reality, Genesis, Enoch, and more....
The book debunks entirely Darwin's 1859 Theory of Evolution.
The book also contains imagery and explanations as they relate to Nephilim, fallen angels, demons, aliens and other creepy crawlies.
It is also a journey through the Book of Genesis, Book of Enoch and Book of Jasher, and a variety of ancient Sumerian texts
A PreFlood journey by Trey Smith