Walt Disney's Mickey Mouse "Trapped On Treasure Island": Volume 2 (Hardcover)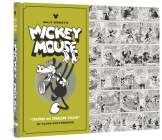 $29.99

Usually Available in 1-5 Days, supply chain issues may affect these times
Description
---
The comics that defined the Mouse!
"Oh, for gosh sakes!" Floyd Gottfredson's classic 1930s
Mickey Mouse
is back for another round of thrills, chills, and epic quests — taking him from the depths of teeming jungles to the halls of spooky Blaggard Castle. Mickey's classic Disney bad guys are here, too, with arch-enemy Pegleg Pete joined for this book by the mysterious "Bill Shakespeare" and hypnosis-happy Professors Ecks, Doublex, and Triplex!
Floyd Gottfredson, artist of Mickey Mouse from 1930-1975, made it the most popular cartoon-based comic of its time. Unafraid to tackle social satire and grown-up action-adventure, Gottfredson produced a Mouse for all ages. Today as Disney's
Epic Mickey
video game brings Mickey's gutsy side to a new medium. Fantagraphics'
Mickey Mouse
series shows just how long Mickey has been a hero! In this book you'll relive Mickey's fight with pirates on desolate Treasure Island; his quest with Goofy to catch ruthless counterfeiters; and his battles to save windy Horace Horsecollar from mad scientists, a robbery frame-up — and himself!
Lovingly restored from Disney's original negatives and proof sheets,
Mickey Mouse: Trapped on Treasure Island
also includes more than 50 pages of fascinating supplementary features. You'll enjoy rare behind-the-scenes art, vintage publicity material, and vivid commentary by a full team of seasoned Disney scholars. Walt Disney often said that his studio's success "all started with a mouse" — and today Mickey is among the world's most recognizable icons in the world. Now it's time to rediscover the wild, unforgettable personality behind the icon: Floyd Gottfredson's Mickey Mouse.
About the Author
---
Hired as a short-term replacement on the fledgling Mickey Mouse daily strip in 1930, Floyd Gottfredson (1905–1986) went on to draw the feature for the next 45 years. He created the most famous Mickey tales ever told in print. He is a Disney Legend and was inducted into the Will Eisner Award Hall of Fame in 2006.

David Gerstein is an animation and comics researcher, writer, and editor best known for his work with The Walt Disney Company and its licensees. His published projects include Uncle Scrooge and Donald Duck: The Don Rosa Library (Fantagraphics, 2014-2018) and Mickey Mouse: The Ultimate History (with J.B. Kaufman; Taschen, 2018). He lives in North Carolina.

Gary Groth is the co-founder of The Comics Journal and Fantagraphics Books. He lives in Seattle.
Praise For…
---
…[A] revelation. As in his contemporaneous animated cartoons, this Mickey is a feisty, wisecracking daredevil… Gottfredson's charmingly old-fashioned drawings accentuate the gags and briskly propel the plotlines.

— Gordon Flagg - Booklist

The stories are dense, packing plenty of dialogue into the strips — and the themes are darker than the bright-eyed, factory-sealed tales of today.... The reproduction is crisp — the black inks are meticulous in their separation…. This dynamic look is a revelation in the life of the character who started it all for Disney.

— Alex Carr - Omnivoracious (Amazon.com)

Gottfredson's comics are as classy, funny and as slick as the Disney shorts from the same period.... A fine package, a full meal, and a perfect follow-up to volume 1, Walt Disney's Mickey Mouse Vol. 2: Trapped on Treasure Island fills a gap long-neglected in animation history. Buy it.

— Jerry Beck - Cartoon Brew

Can you believe that the tapioca-plain Mickey Mouse was… once a high-spirited adventurer...? He was in the original comic strips... It's one of the classics.

— David Allen - Inland Valley Daily Bulletin

Over time, Mickey's personality becomes more refined…; scrappier, tougher and more determined to seek justice (or an adventure) regardless of the odds. …[T]his series is rich with detail, both in the strip itself and in the editorial handling of the material, [in a way] that puts other reprint projects to shame.

— Chris Mautner - Robot 6

These Floyd Gottfredson-created adventure strips… are everything you want from a feature like this: exuberant, lovely-looking and a lot of fun.

— Tom Spurgeon - The Comics Reporter

…[A]s amazing as it sounds David Gerstein and Fantagraphics have managed to do it again: they have produced at the same time the best Disney comic book of 2011 and one of the best Disney history books of the year.

— Didier Ghez - Disney History

The Mickey Mouse books from Fantagraphics… feel like the Criterion Collection DVDs translated into comic strip compilations, a prime example of how to give the readers more than their money's worth.... With Mickey Mouse: Trapped on Treasure Island, I'm already eager to see what Gottfredson did next. I'm in for the long haul.

— Greg McElhatton - Read About Comics