The 2024 Old Farmer's Almanac Everyday Calendar: A Gift for Farmers (Paperback)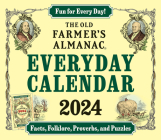 Description
---
A smile for every day! The 2024 Old Farmer's Almanac Everyday Calendar lets you start each day learning something new: For example, What is "pandiculation"? One day on Venus is as long as how many days on Earth? What is the connection between lettuce and milk? The answers to these questions appear along with riddles and puzzles, gardening advice, household tips, folklore, poetry and quotations, historical facts, and much more in this cleverly illustrated box calendar. Enjoyed by folks for more than 30 years!
Features also include:
Major U.S. and Canadian holidays and celebrations
Moon phases (new, quarters, full), including traditional full-phase names like Full Strawberry Moon and Full Harvest Moon
Solar and lunar eclipses
Designed to sit on a desk, kitchen table, bureau, windowsill—or any flat, stable surface: Its page-a-day, peel-away pages are mounted on a sturdy recyclable plastic backer with an easy-to-use, built-in stand.
Get one for yourself and one for a gift—but don't you dare look at more than one day at a time! (It's more fun that way!)
Enjoyed by folks for more than 30 years, this full-color, page-per-day box calendar is a perfect complement to The Old Farmer's Almanac's famous weather predictions for North America, which are available in The Old Farmer's Almanac annual publication or at Almanac.com/weather.
Want more? Also enjoy these other beautiful 2024 calendars from The Old Farmer's Almanac: Gardening, Moon, Weather, Country, and Planner.
About the Author
---
America's best-selling annual publication, with facts, feature articles, and advice that are "useful, with a pleasant degree of humor."