Robots Can't Dance!: and other fun facts (Did You Know?) (Hardcover)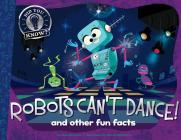 $17.99

Usually Available in 5-9 Days, supply chain issues may affect these times
Description
---
This hilarious book is full of fun facts about robots, computers, x-rays, and other cool technology and inventions!

Did you know that the first mobile phone weighed nearly two pounds? That's like carrying a pineapple around with you!
How about that the only living things capable of powered flight are insects, birds, and bats?
Or that certain robots can talk, control household devices, and memorize up to thirty different faces and tell them apart?

Filled with tons of cool facts about technology and inventions, plus colorful, humorous illustrations, this latest book in the Did You Know? series is sure to be a hit!
About the Author
---
Hannah Eliot is a children's book editor who lives in Manhattan, New York. Her favorite activities include editing (of course), writing, painting, and doodling all over every piece of notebook paper she uses.

Aaron Spurgeon is a professional artist working in the animation industry. Aaron's credits include Cloudy with a Chance of Meatballs 2 and the Mickey Mouse shorts, as well as several unreleased animation projects. When not working on movies, Aaron enjoys doing illustrations based on historical city locales and mentoring young artists. Aaron and his family live in Pasadena, California.