Rhinoceros Tap: 15 Seriously Silly Songs (Hardcover)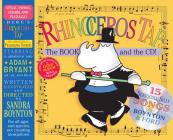 Email or call for price.
Out of Print - we are not able to supply this book
Description
---
Sing a song of Boynton! Here is Rhinoceros Tap, a truly delightful collection of seriously silly songs. This Recording Industry Association of America Gold album, with 647,000 copies in print, combines a big illustrated songbook and CD so children and grown-ups alike can read along, sing along, dance along, cluck along, and oink along to the fifteen original songs.
There's "O, Lonely Peas" to appeal to every finicky young eater. The five-year-old's lament, "Bad Babies." A mouse's impassioned ballad to his beloved, "I Love You More Than Cheese." Plus the lead number, "Rhinoceros Tap," the ever-popular "Barnyard Dance," and more. With lyrics and pictures by Boynton and music written with and played by the one and only Michael Ford, these songs have the style, swing, charm, and pizzazz that little listeners deserve. Ready? All together now.
About the Author
---
Sandra Boynton is a popular American cartoonist, children's author, songwriter, producer, and director. Since 1974, Boynton has written and illustrated over sixty children's books and seven general audience books, including five New York Times bestsellers. More than 70 million of her books have been sold, "mostly to friends and family," she says. She has also written (with Michael Ford) and produced six albums of renegade children's music. Three of her albums have been certified Gold (over 500,000 copies sold), and Philadelphia Chickens, nominated for a Grammy, has gone Platinum (over 1 million copies sold). Boynton has also directed twelve music videos of her songs, including the award-winning "One Shoe Blues" starring B.B. King, "Alligator Stroll" starring Josh Turner, and "Tyrannosaurus Funk" (animation) sung by Samuel L. Jackson. She lives in rural New England, and her studio is in a barn with perhaps the only hippopotamus weathervane in America.
Michael Ford, Sandra Boynton's esteemed collaborator on Philadelphia Chickens and Rhinoceros Tap, is a classically trained composer and pianist, with a long detour in Progressive Rock performance. He and his family live down the road a spell from Sandy.