Dear Stray (Hardcover)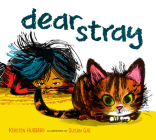 $18.99

Usually Available in 1-5 Days, supply chain issues may affect these times
Description
---
A prickly kitten and the child who chooses it revel in being kindred spirits while they both learn how to live with their wild side.

When a little girl adopts a tigerish stray kitten from the shelter, her family isn't sure about her choice. But she can see that she and the kitten have lots in common as they both have a tendency to lash out when they're uncomfortable. The little girl does her best to be patient and give her kitten plenty of space, treating it the way she likes to be treated. And in doing so, somehow they figure out just the right ways to help calm each other. A poignant text and evocative art make this story about two friends who share the heart of a tiger a standout.
About the Author
---
Kirsten Hubbard (kirstenhubbard.com) also wrote the middle grade novels Watch the Sky, Race the Night, and the Secrets of Topsea series (as Kir Fox with M. Shelley Coats), and the young adult novels Wanderlove and Like Mandarin. An author, artist, and freelance writer, she lives in Los Angeles with her prickly little pup, Teddy Fox.

Susan Gal (GalGirlStudio.com) is the author and illustrator of several picture books, including TWOgether, Night Lights, Please Take Me for a Walk, and the illustrator of the award-winning Welcoming Elijah: A Passover Tale with a Tail. She lives in Berkeley, California.
Praise For…
---
* "Digitally assembled watercolor and ink illustrations from Gal movingly reinforce this prickly kinship via emphatic brushstrokes and dramatic hues. Between the child and 'Dear Stray,' the relationship can prove a rocky one. While the child empathizes with the cat expressing its inner tiger, its reactions also seem to heartily reflect the child's own arm's-length relationship with the world. A day spent together in the calm of the outdoors, followed by a few scary hours when the kitten goes missing, enables each to let down their guard and realize comfort and vulnerability." —Publishers Weekly, starred review

* "The girl's narration is deceptively simple, poignantly belying the complexity of her feelings, both toward the kitten and toward herself; she understands their mutual need for space but sometimes wishes she could open herself up more. . . . While the pair seem to believe themselves in their own separate little worlds, viewers can track the two as they circle each other, emotionally and physically, with the cat trailing after the girl with an inquisitive expression in some scenes and the girl looking for the cat in others, a clear need for connection in her face and body language. The watercolor-and-ink art is rife with detail and texture, with black scritch-scratches making up the girl's messy hair and the cat's tiger-striped fur, and the girl's angular form echoes the claws-out feline's fury. . . . Respects its characters' need for space while still giving them emotional connection." —The Bulletin of the Center for Children's Books, starred review

"A child writes letters to a new kitten. 'Dear stray,' they begin; each letter reveals details about their developing relationship and the protagonist's uphill path to emotional growth. . . . With mismatched socks, tangled hair, and a persistent scowl, the child is a mirror of the kitten, who has their hackles raised and claws out. . . . But as the kitten starts to settle in, the child, too, finds a way to calm the inner storm. . . . The child and kitten are still plenty spiky but also soothed by the joy of belonging to each other. Tender and earnest, this sweet story will speak to any reader who has ever felt like an angry kitten. Saturated watercolors and forceful brush strokes expressively capture the child and the kitten in motion. . . . A touching tale about two prickly pals who find a way to be soft together." —Kirkus Reviews

"Days filled with emotional twirls and sticky, spiky, scratchy shared feelings between a young girl and her adopted stray kitten immediately convey to readers it's okay to be grouchy. . . . The story begins each day with "dear stray," revealing a child's innermost irritable self and her relationship with the kitten that grows from the prickliest hisses to a shared tenderness guaranteed to appeal to anyone who has ever felt like an irascible feline. Poignant text complemented by strong vibrant watercolor washes evokes feelings in motion. The expressive drawings saturate each page making this story about a tempestuous young girl and her fierce furry companion come to life in the softest way possible. With sensitivity and compassion, Hubbard's characters display emotions that bridge several social-emotional topics, making this gem of a book accessible to readers across several grades and reading levels." —School Library Journal