Five Little Monkeys Jump in the Bath (A Five Little Monkeys Story) (Board book)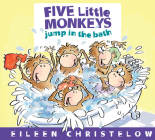 $7.99

Usually Available in 1-5 Days, supply chain issues may affect these times
Description
---
The bestselling Five Little Monkeys are getting into trouble yet again—this time while taking a bath!
When five little monkeys eat some ice cream and play in the mud, they become icky, sticky monkeys . . . and Mama says it's time for a bath! But even after those silly little monkeys scrub themselves clean, they find a way to get mucky all over again.
Your little monkey will giggle over the wild monkey antics, rhyming refrains, and expressive, up-close monkey art in this board book.
This enormously popular series includes:
Five Little Monkeys Bake a Birthday Cake
Five Little Monkeys Jump in the Bath
Five Little Monkeys Jumping on the Bed
Five Little Monkeys Looking for Santa
Five Little Monkeys Play Hide and Seek
Five Little Monkeys Reading in Bed
Five Little Monkeys Shopping for School
Five Little Monkeys Sitting in a Tree
Five Little Monkeys Trick-or-Treat
Five Little Monkeys Wash the Car
Five Little Monkeys with Nothing to Do
About the Author
---
Eileen Christelow was born in Washington, D.C. and grew up in a family of avid readers. It was in high school that she first made the leap from reader to writer, publishing her first stories in her high school's magazine.
After studying art history and drawing in college, she discovered a love of photography and began building a career as a photographer. Her interest in children's books was always strong, and after the birth of her daughter, she began thinking about writing one of her own. Her first book, Henry and the Red Stripes, was published in 1981.
Since then, she has written and illustrated numerous best-selling picture books including ten popular books about the Five Little Monkeys, Letters from a Desperate Dog, and Vote! She lives with her husband in Dummerston, Vermont, and you can learn more about her life and work on her website, www.christelow.com and on www.fivelittlemonkeys.com.