Ansel Adams 2024 Wall Calendar: Authorized Edition: 13-Month Nature Photography Collection (Monthly Calendar) (Calendar)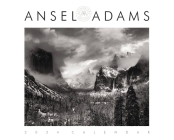 Description
---
Ansel Adams' landmark 'Authorized Edition' wall calendar series is celebrating its 40th year with a commemorative anniversary edition.
Now in its fifth decade, this best-selling calendar showcases photography by Ansel Adams, one of the 20th century's great artists and environmentalists, whose work was inspired by the grandeur, wildness, and mystery of the American landscape, and has come to symbolize our national parks. This special anniversary edition highlights Yosemite's evanescent beauty, the majesty of the Tetons, and more alongside generous space for recording active monthly schedules. Renowned for their superior print quality, these calendars have been meticulously supervised by the artist's estate, resulting in photographic reproductions which are worthy of framing at year's end.  
Ansel Adams 'Authorized Edition' calendars make an inspired gift for almost any holiday or occasion, guaranteed to impress photographers, aesthetes, nature lovers, educators, environmentalists, and anyone that appreciates great art, design, and natural beauty.  
Features:
Fourteen spectacular black and white landscape photographs by legendary artist and environmentalist Ansel Adams, carefully selected and sequenced to reflect the changing seasons.
Large format, wirebound 12.8" x 15.6" wall calendar (25.6" x 15.6" open).
Spectacular views from Yosemite National Park in California, to Denali National Park in Alaska, to Cape Cod, Massachusetts, and more.
Superior reproduction quality: Printed in rich duotone on premium paper stock, making each page suitable for framing at year's end.
Features US and Canadian legal holidays, phases of the moon, and major religious holidays.
Printed and manufactured in the United States of America on responsibly sourced paper.
A portion of the proceeds from the sale of Ansel Adams' calendars goes to support the Center for Creative Photography. 
The photographs of Ansel Adams are among America's finest cultural treasures, and are the foundation of his tremendous legacy of environmental activism. A pioneer of photographic technique and one the 20th century's most influential artists in any medium, his creative vision remains as relevant and convincing as ever.  
For more ways to enjoy the photography of Ansel Adams, look for Little, Brown and Company's Ansel Adams 2024 Engagement Calendar and Ansel Adams' Yosemite
About the Author
---
Ansel Adams (1902-1984) was the most honored American photographer of the twentieth century. Through the exhibition and publication of his work, his writings, and his leadership in the Sierra Club, Adams was also a prescient and highly effective voice in the fight to preserve America's remaining wilderness.