Nigel y la luna: Nigel and the Moon (Spanish Edition) (Paperback)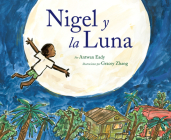 Description
---
This high-quality Spanish-language edition of Nigel and the Moon can be enjoyed by fluent Spanish speakers as well as those learning the language, whether at home or in a classroom.
Cuando Nigel mira la luna, su futuro es resplandeciente.
Se imagina siendo… un astronauta, un bailarín, ¡incluso un super héroe! En medio de las estrellas, hace una pirueta. Su pecho se alza con orgullo. Y sus ojos centellean. Nigel es el ser más brillante en todo el cielo.
Pero es la semana de las profesiones en su escuela, y Nigel no consigue juntar el valor para compartir sus sueños. Es sencillo susurrárselos a la luna, pero no contárselos a sus compañeros. Especialmente cuando, de por sí, él siente que no encaja con los demás.
"Hermoso." —Mac Barnett, autor de Extra Yarn
"Una historia inspiradora." —School Library Journal (reseña destacada)
"Un clásico." —Minh Lê, autor de Drawn Together y Lift
"Una exhortación amorosa." —Publishers Weekly (reseña destacada)
"Una lectura obligada." —Joanna Ho, autora de Eyes That Kiss in the Corners
About the Author
---
Antwan Eady is an author and a dreamer. Originally from Garnett, South Carolina, he spent many nights whispering his dreams; now he proudly shares them with the world. A graduate of Clemson University, Antwan now lives in Savannah, Georgia.
Gracey Zhang is an illustrator, born and raised in Vancouver, Canada. She received her BA in illustration from Rhode Island School of Design and now resides in Brooklyn, New York. She is the writer and illustrator of Lala's Words. She spends most of her time among scattered papers and ink pots, and when she's not at her desk, you can find her looking out train windows, watching and listening.
Erika Meza migrated from Mexico in 2013, leaving behind her family, friends and her favorite food. She lived in a dungeon with a ghosts-and-ghouls-painting princess, learned how to tell stories, then found and lost a spotted dog in Paris, where she attended school. She finally crossed the France-UK border and settled down in London, where she lives in a small flat and works as an author and illustrator, aided by her cat who tries to leave inky paw prints on her work. She tries to go back home often, at the border of Tijuana and San Diego, where her book was born.