The Nice Dream Truck (Hardcover)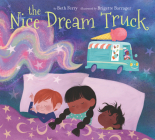 $19.99

Usually Available in 1-5 Days, supply chain issues may affect these times
Description
---
From the dreams of New York Times bestselling creators Beth Ferry and Brigette Barrager comes this whimsical bedtime story filled with adventure and imagination. Featured by Gayle King on CBS Mornings!
When bedtime is near, you might be in luck. You might get a visit from the Nice Dream Truck!
Sample your choice of sweet dreams—from astronaut to making-the-shot and more—all served by a truck that flies on moonbeams. You may choose to swim; you may want to fly, there's an endless assortment of flavors to try!
New York Times bestselling creators Beth Ferry and Brigette Barrager serve up a delightful twist on the lyrical bedtime romp, reminding us that there are as many ways to dream as ice cream flavors to taste.  
A dream come true for fans of Sherri Duskey Rinker's Steam Train, Dream Train and Emily Winfield Martin's Dream Animals, The Nice Dream Truck is sure to be a bedtime classic.
About the Author
---
Beth Ferry is the New York Times bestselling author of numerous picture books, including Stick and Stone, The Scarecrow, and The Nice Dream Truck. She lives with her family by the beach in New Jersey, where she finds inspiration in the salty air. In addition to writing picture books, Beth also writes graphic novels for emerging readers. 
Brigette Barrager is an artist, a character designer, an illustrator, and a writer of children's books. She is best known for illustrating the bestselling picture book Uni the Unicorn by Amy Krouse Rosenthal. Brigette earned a degree in character animation from the California Institute of the Arts, where she now also teaches. Brigette lives and works in Los Angeles with her handsome husband, Sean, a grumpy little dog, and two rascally gray kitties.
Praise For…
---
This could be useful in classrooms as an introduction to genres, given that the dreams run the gamut from pure fantasy to sports and science fiction. Ideal for bedtime, this tale might especially resonate with children who have a hard time falling asleep or who are troubled by bad dreams. Move over, Sandman! The Nice Dream Truck has something perfect to dish up for every dreamer — School Library Journal
[S]oothing, uplifting, and definitely upbeat...An inventive and charming bedtime story. — Kirkus Reviews
A sweet bedtime romp with commercial appeal. — Publishers Weekly
Yearning for some summer magic? This whimsical rhyming lullaby delivers two scoops! A cosmic vehicle, driven by a girl with 'stars in her eyes,' brings dreams to those who delight in puppies, moonbeams and dragons with jellybean scales. The only caveat? The potential recipients must first 'hop into bed and snuggle down deep,' close their eyes and prepare for sleep. — Washington Parent